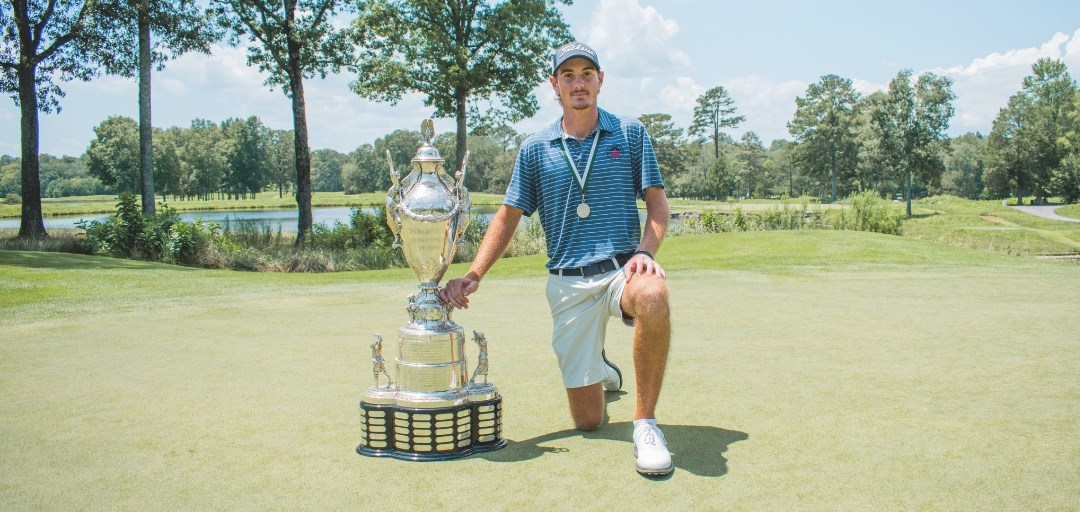 Nicholas Gabrelcik Wins the 117th Southern Amateur Championship
OOLTEWAH, TN (July 22, 2023) – Final Round results of the 117th Southern Amateur Championship of the Southern Golf Association hosted by The Honors Course, Ooltewah, Tennessee, on Saturday, July 22, 2023 (7527 yards, par 36-36–72, 77.3/154).
Championship Links:
Scoring & Results
|
Photo Gallery
|
Club Website
|
Championship Website
Nicholas Gabrelcik of Trinity, Florida, posted a final round of eight-under 64, tying The Honors Course record and improving 23 places from yesterday's Round Two. He fired seven birdies and an eagle today to claim the 117th Southern Amateur Championship title with a 54-hole total of 11-under 205. Gabrelcik finished one shot ahead of his competition.
Dylan Menante of Carlsbad, California finished second with an overall ten-under 206 score.
Peter Fountain of Raleigh, North Carolina, and Jeffrey Guan of Australia both finished with an overall nine-under 207 score. After a scorecard playoff, Fountain claimed bronze.
Final Round Notes:
● Field average score: 72.39
● Four eagles and 216 birdies posted in the Final Round
● 25 players broke par during the final round
● Easiest Hole: #17, Par 5 (average 4.67)
● Hardest Hole: #8, Par 3 (average 3.56)

The winner of the Southern Amateur Championship receives a silver medal, his name engraved on the George Adair Trophy and exemption into the 2024-2028 Southern Amateur Championships.

The 117th Southern Amateur Championship is conducted by the Southern Golf Association.
About the Southern Golf Association (SGA)
The Southern Golf Association, founded in 1902, is one of the oldest golf organizations and serves member clubs over a 15-state area. Recognized by the United States Golf Association (USGA) and Regional Golf Associations as one of the leaders in the promotion of Amateur Golf, SGA championships are selected for inclusion as criteria for selecting players for USGA and State team competitions. Through the years, SGA Champions have been chosen to represent various state golf associations in selected team competitions, including the Walker Cup and World Amateur.
For more information about the Southern Golf Association, visit www.southerngolf.org
Media Contact:
Savannah Russo
Manager of Media, Marketing & Communications
Southern Golf Association
205-803-6524
/Blog/425723/Nicholas-Gabrelcik-Comes-From-Behind-to-Claim-the-117th-Southern-Amateur-Championship-Title