A Southern Tradition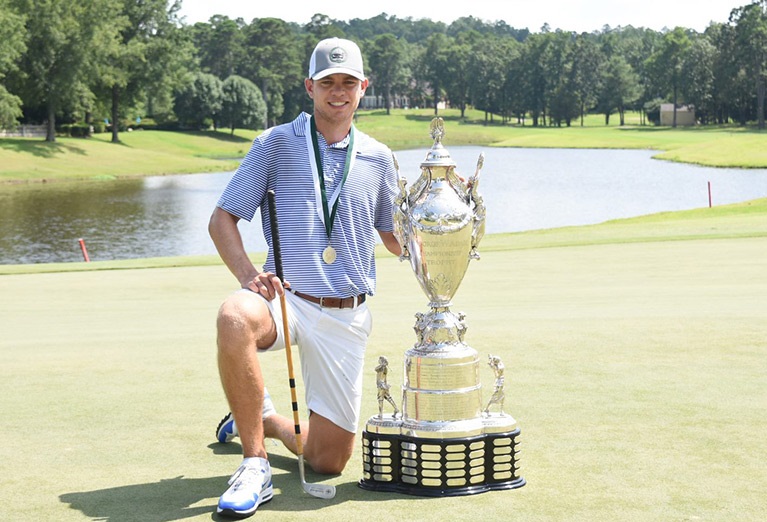 Established in 1902 and serving member clubs over a 15-state-area, The Southern Golf Association (SGA) is one of the oldest, largest and most prestigious golf associations in the world.
We are recognized by the United States Golf Association and Regional Golf Associations as one of the leaders in the promotion of Amateur Golf. These groups validate our credentials by selecting our championships for inclusion as criteria for selecting players for their team competitions. Through the years Southern Amateur Champions have been chosen to represent the various state golf associations in selected team competitions, as has the U.S. Golf Association in Walker Cup and World Amateur competitions.
The Southern conducts two championships annually: the Southern Junior Championship in June and the Southern Amateur Championship in July. All are included by most major points systems as a basis for players earning points for national amateur rankings.
Anyone is eligible to play in our championships with the only restrictions being they must be male in gender and meet the USGA Handicap requirements for that particular championship.
The Southern Amateur dates back to 1902 and its Champions Roster is like reading a Who's Who's of competitive golf. Leading this group is Robert T. (Bobby) Jones, Jr., who was the Southern Amateur Champion in 1917, 1920, and 1922. Others who have won or finished in a challenging position and gone on to national and/or international prominence include Tommy Barnes, Dale Morey, Don January, Gay Brewer, Doug Sanders, Billy Joe Patton, Lew Oehmig, Hubert Green, Downing Gray, Marvin (Vinny) Giles, Lanny Wadkins, Steve Melnyk, Tom Kite, John Mahaffey, Ben Crenshaw, Gary Koch, Bill Rogers, Gil Morgan, Danny Edwards, Andy Bean, Vance Haefner, Jerry Pate, Chip Beck, David Edwards, Jay Sigel, Bob Tway, Mark Brooks, Gene Sauers, Davis Love, and more recently, Justin Leonard and Allen Doyle.
The Southern Junior was first played in 1972 as a Junior Division of the Southern Amateur Championship. Since that time, it has stood alone and evolved into a premier championship on the Junior circuit.
We do not restrict our attention to conducting our championships as our Directors are very active with State and Regional Golf Associations, as well as the United States Golf Association, serving on various committees.
Additional services we provide include an annual Yearbook, which lists all our officers and directors, our Member Clubs, results of our championships, and other historical information dating back to our inception in 1902.