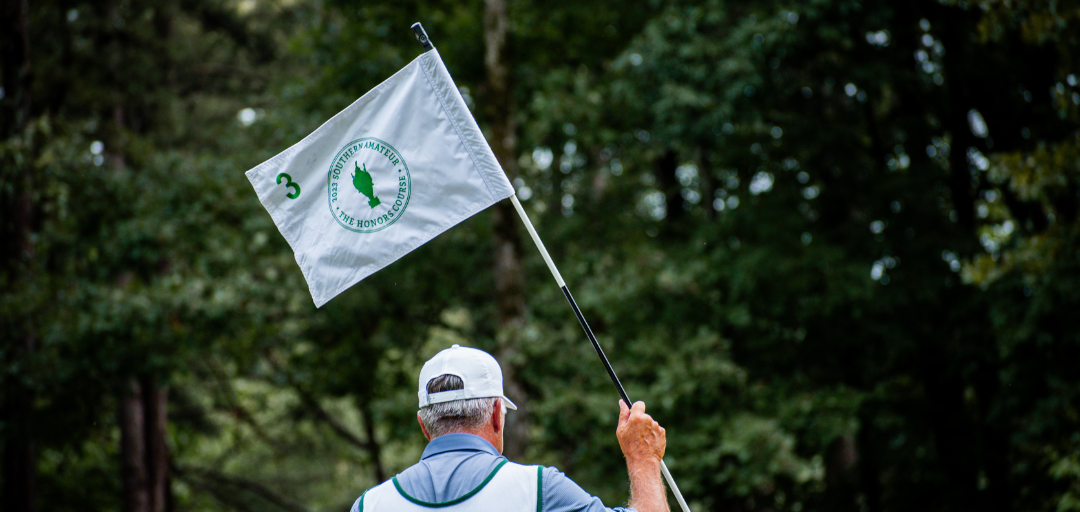 Caddie at the 117th Southern Amateur Championship
OOLTEWAH, TN (July 20, 2023) – Partial Round Two results of the 117th Southern Amateur Championship of the Southern Golf Association hosted by The Honors Course, Ooltewah, Tennessee, on Thursday, July 20, 2023 (7527 yards, par 36-36–72, 77.3/154).
Matthew Kress remains at the top of the leaderboard with a score of seven-under 65 after another day of weather delays at the The Honors Course.
Round One resumed play this morning promptly at 7:00 a.m. After Round One was completed, play was suspended during Round Two at 3:00 p.m. for the remainder of the day due to additional severe weather.
After weighing all of the factors, the SGA Executive Committee decided to shorten the championship to a 54-hole event. The last time this event was reduced to 54 holes was in 1994. Round Two will resume at 7:00 a.m. Practice facility and breakfast opens at 6:00 a.m. The four groups yet to start play off each tee will begin at 7:10 a.m. Tee times will run from 11:00 a.m.–1:12 p.m. off #1 and #10 for the original Round Two afternoon wave.
After 36 holes is completed, the field will be cut to the low 66 scores and ties for the final round on Saturday using a double tee start.
For more information about the 117th Southern Amateur Championship, including hole-by-hole scoring, please visit
the Championship website
.
The 117th Southern Amateur Championship is conducted by the Southern Golf Association.
About the Southern Golf Association (SGA)
The Southern Golf Association, founded in 1902, is one of the oldest golf organizations and serves member clubs over a 15-state area. Recognized by the United States Golf Association (USGA) and Regional Golf Associations as one of the leaders in the promotion of Amateur Golf, SGA championships are selected for inclusion as criteria for selecting players for USGA and State team competitions. Through the years, SGA Champions have been chosen to represent various state golf associations in selected team competitions, including the Walker Cup and World Amateur. The SGA is host to the Southern Junior Championship as well as the Southern Amateur Championship and hosts the international award, the "Amateur of the Month," to a deserving amateur golfer on a monthly basis.
For more information about the Southern Golf Association, visit www.southerngolf.org
Media Contact:
Savannah Russo
Manager of Media, Marketing & Communications
Southern Golf Association
205-803-6524
/Blog/425589/Weather-Continues-To-Delay-the-117th-Southern-Amateur-Championship