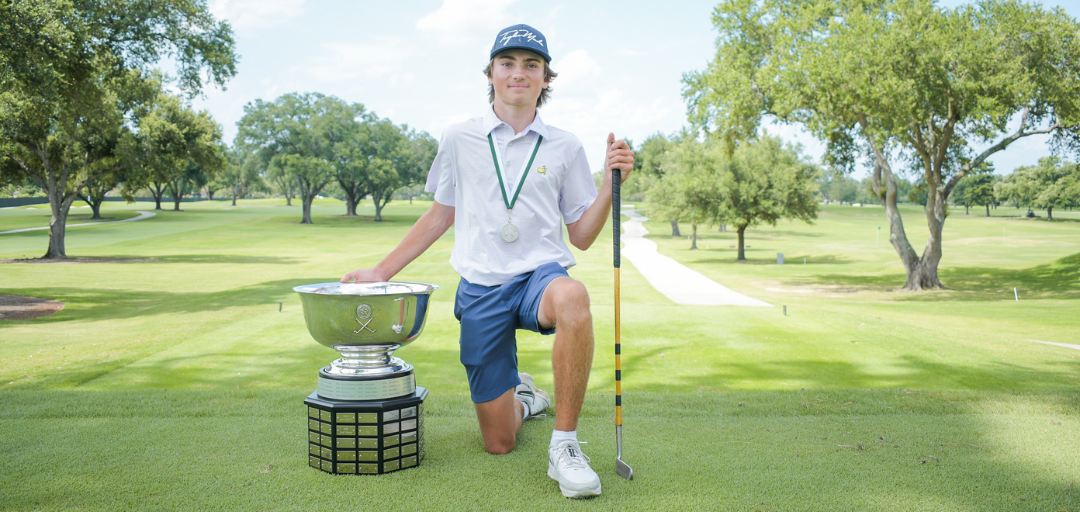 Tyler Watts of Huntsville, Alabama, Wins 51st Southern Junior Championship
BATON ROUGE, LA (June 16, 2023) – Final Round results of the 51st Southern Junior Championship of the Southern Golf Association hosted by Baton Rouge Country Club, Baton Rouge, Louisiana, on Friday, June 16, 2023 (7043 yards, par 36-36–72, 72.8/139).
Tyler Watts of Huntsville, Alabama, posted a final round of two-under 70. He fired five birdies today to claim the 51st Southern Junior Championship title with a nine-under 207 total. Watts finished five shots ahead of his competition.
Collins Trolio of West Point, Mississippi, who finished second with a four-under 212 score. Noah Kent of Naples, Florida and Liam Pasternak of Morristown, New Jersey, each finished at two-under 214. After a scorecard playoff, Kent claimed bronze.
Field average score: 74.59

One eagle and 214 birdies posted in the Final Round

14 players broke par during the final round

Easiest Hole: #5, Par 5 (average 4.61)

Hardest Hole: #8, Par 3 (average 3.42)
The winner of the Southern Junior Championship receives a silver medal; his name engraved on the Perry Adair Trophy; a Calamity Jane putter; exemption into the 2024 Southern Amateur Championship; exemption into all future Southern Junior Championships in which he is eligible to compete; and is fully Exempt with AJGA for 12 months.
The 51st Southern Junior Championship is conducted by the Southern Golf Association.
About the Southern Golf Association (SGA)
The Southern Golf Association, founded in 1902, is one of the oldest golf organizations and serves member clubs over a 15-state area. Recognized by the United States Golf Association (USGA) and Regional Golf Associations as one of the leaders in the promotion of Amateur Golf, SGA championships are selected for inclusion as criteria for selecting players for USGA and State team competitions. Through the years, SGA Champions have been chosen to represent various state golf associations in selected team competitions, including the Walker Cup and World Amateur.
Manager of Media, Marketing & Communications
Southern Golf Association