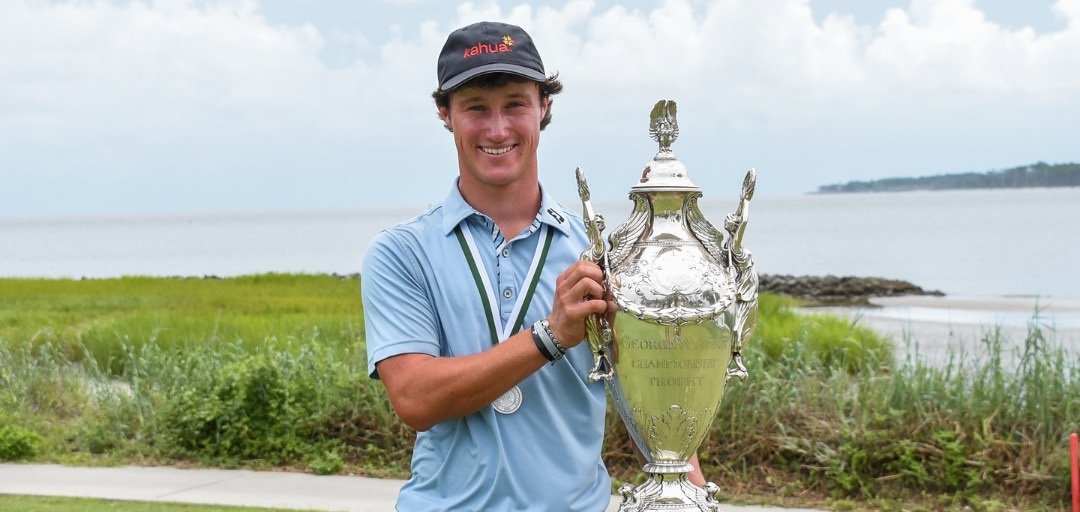 116th Southern Amateur Champion: David Ford of Peachtree Corners, Georgia
ST. SIMONS ISLAND, GA (July 16, 2022) - Final Round results of the 116th Southern Amateur Championship of the Southern Golf Association hosted by Sea Island Golf Club in St. Simons Island, GA, on Saturday, July 16, 2022. (7024 yards, par 35–36–71,72.9/127).
Championship Links:
Final Round Results
|
Photo Gallery
|
Course Website
|
Championship Website
David Ford of Peachtree Corners, Georgia claimed the Champion title at the 116th Southern Amateur, firing six-under-par 65 for the final round. A rising sophomore at the University of North Carolina, Ford went 20-under 264 for the tournament.
Ford's card held the lowest score in Southern Amateur history alongside previous Champion Maxwell Moldovan's low score at the 115th Southern Amateur.
"I haven't won in so long and I had a lot of emotions in the final round and especially yesterday that I haven't felt in a while," said Ford. "It feels really good to win and it hasn't really set in yet."
Jiri Zuska of Czech Republic and Mason Williams of Bridgeport, West Virginia both stood T2 after the Final Round. Zuska posted a five-under-par 65 for the Final Round. Williams posted an even-par 71.
Both players finished with a 17-under 267 overall. After a scorecard playoff, Zuska claimed the Second place title and Williams claimed the Third place title.
Final Round Notes
● Field average score: 70.21
● 5 eagles posted in Final Round
● 276 birdies posted in Final Round
● 37 players broke par
● Easiest Hole: #11, Par 3 (average 3.31)
● Hardest Hole: #18, Par 5 (average 4.42)
For more information about the 116th Southern Amateur Championship, including hole-by-hole scoring, please visit
the Championship website
.
The 116th Southern Amateur Championship is conducted by the Southern Golf Association.
About the Southern Golf Association (SGA)
The Southern Golf Association, founded in 1902, is one of the oldest golf organizations and serves member clubs over a 15-state area. Recognized by the United States Golf Association (USGA) and Regional Golf Associations as one of the leaders in the promotion of Amateur Golf, SGA championships are selected for inclusion as criteria for selecting players for USGA and State team competitions. Through the years, SGA Champions have been chosen to represent various state golf associations in selected team competitions, including the Walker Cup and World Amateur. The SGA is host to the Southern Junior Championship as well as the Southern Amateur Championship and hosts the international award, the "Amateur of the Month," to a deserving amateur golfer on a monthly basis.
For more information about the Southern Golf Association, visit www.southerngolf.org
Media Contact:
Savannah Snowden
Manager of Media, Marketing & Communications
Southern Golf Association
205-803-6524
/Blog/393184/David-Ford-Crowned-Champion-at-the-116th-Southern-Amateur-Championship