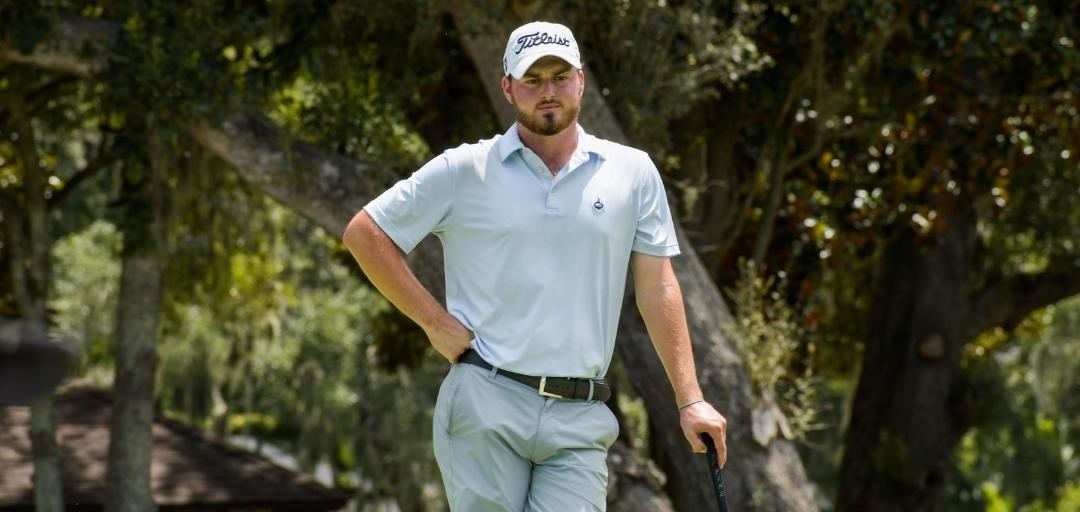 Southern Amateur Round One Leader: Mason Williams of Bridgeport, West Virginia
ST. SIMONS ISLAND, GA (July 14, 2022) - Partial Round Two results of the 116th Southern Amateur Championship of the Southern Golf Association hosted by Sea Island Golf Club in St. Simons Island, Georgia, on Thursday, July 14, 2022 (7024 yards, par 35–36–71, 74.1/130).
Championship Links:
Scoring & Results
|
Starting Times (Round 3)
|
Photo Gallery
|
Club Website
|
Championship Website
Play was suspended at 5:30 p.m. due to inclement weather, putting a halt in the afternoon wave until 5:30 p.m. Play resumed at 7:30 p.m. and carried on until sundown. Three players will finish Round Two at 7:00 a.m. tomorrow morning, and Round Three will begin at 8:30 a.m. off holes #1 and #10.
Mason Williams of Bridgeport, West Virginia fired an eight-under 63 to lead Round Two of the 116th Southern Amateur Championship. Williams stands 14-under 128 for the tournament.
David Ford of Peachtree Corners, Georgia carded a nine-under-par 62 to stand second. Overall, Ford stands 13-under 129.
Tom Fischer of Birmingham, Alabama shot a six-under-par 65 to stand third. Overall, Fischer stands 11-under 131 for the tournament.
Jiri Zuska of Czech Republic and Bryce Lewis of Hendersonville, Tennessee stand T4 with a 10-under 132 for the tournament. For the round, Zuska posted a four-under-par 67, and Lewis carded a three-under-par 68.
Michael Sanders of Davidson, North Carolina and Kazuma Kobori of New Zealand stand T6 with a 9-under 133 for the tournament. Sanders fired a five-under-par 66 for the round. Kobori fired a four-under-par 67 for the round.
Round Two Notes
● Field average score: 71.06
● 12 eagles posted in Round One
● 544 birdies posted in Round One
● 82 players broke par
● Easiest Hole: #14, Par 5 (average 4.55)
● Hardest Hole: #8, Par 4 (average 4.50 )
Format
The field will be cut to the low 66 players and ties after 36 holes. The lowest score for 72 holes will be the Champion. In the event of a tie for the Championship, a "sudden death" hole-by-hole play-off will be held immediately following play. The play-off holes and their order of play will be determined by the Committee. Initial groupings will be for the first two rounds; the field will be cut and re-grouped by score after the second round for the third round; field re-grouped by score for the fourth round.
Eligibility
Entries are open to any male amateur golfer who has a current USGA Handicap Index® not exceeding 3.4 under the World Handicap System as of the close of entries.
For more information about the 116th Southern Amateur Championship, including hole-by-hole scoring, please visit
the Championship website
.
The 116th Southern Amateur Championship is conducted by the Southern Golf Association.
About the Southern Golf Association (SGA)
The Southern Golf Association, founded in 1902, is one of the oldest golf organizations and serves member clubs over a 15-state area. Recognized by the United States Golf Association (USGA) and Regional Golf Associations as one of the leaders in the promotion of Amateur Golf, SGA championships are selected for inclusion as criteria for selecting players for USGA and State team competitions. Through the years, SGA Champions have been chosen to represent various state golf associations in selected team competitions, including the Walker Cup and World Amateur. The SGA is host to the Southern Junior Championship as well as the Southern Amateur Championship and hosts the international award, the "Amateur of the Month," to a deserving amateur golfer on a monthly basis.
For more information about the Southern Golf Association, visit www.southerngolf.org
Media Contact:
Savannah Snowden
Manager of Media, Marketing & Communications
Southern Golf Association
205-803-6524
/Blog/393084/Partial-Round-Two-Results-of-the-116th-Southern-Amateur-Championship