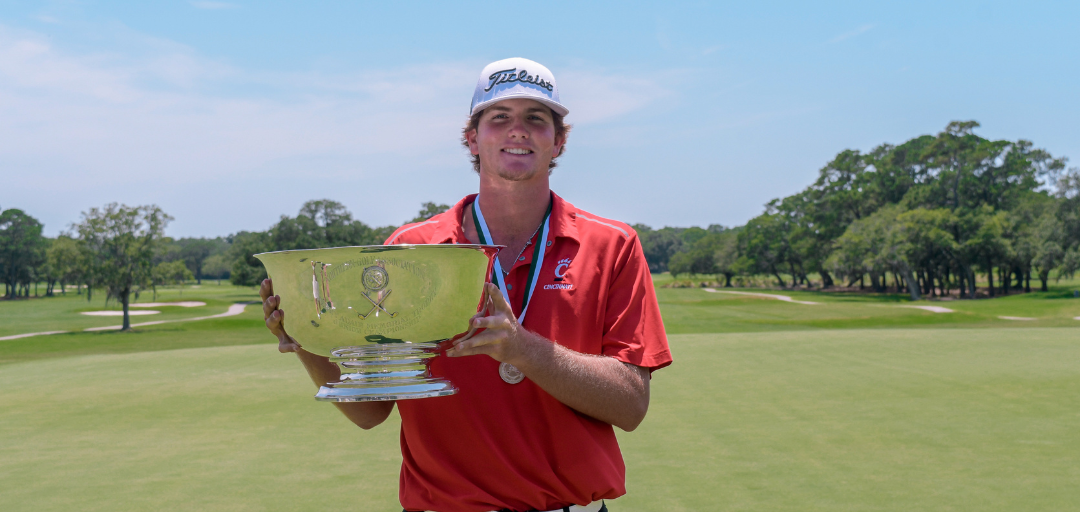 Wyatt Plattner of Sarasota, Florida: 50th Southern Junior Champion
CHARLESTON, SC (June 17, 2022) – Final Round results of the 50th Southern Junior Championship of the Southern Golf Association hosted by the Country Club of Charleston, Charleston, South Carolina, on Friday, June 17, 2022 (6600 yards, par 35-35–70, 71.6/132).
Championship Links:
Scoring & Results
|
Photo Gallery
|
Club Website
|
Championship Website
Wyatt Plattner of Sarasota, Florida, posted a final round three-under 67 that included six birdies and three bogeys to claim the 50th Southern Junior Championship title with a nine-under 201 total. The University of Cincinnati commit finished three shots ahead of Kale Fontenot of Lafayette, Louisiana; Maxmilian Jelinek of Port St Lucie, Florida; and Smith Summerlin of Raleigh, North Carolina, all tying for second with a six-under 204 score.
The state of North Carolina claimed the State Team Competition title with a total score of 543 (17-under). Listed below are the players of North Carolina, who posted the lowest four scores after the first 36 holes.
● Smith Summerlin of Raleigh, North Carolina (134)
● Ethan Paschal of Fayetteville, North Carolina (134)
● Holland Giles of Pinehurst, North Carolina (136)
● *Colin Salema of Matthews, North Carolina (139)
*Scorecard playoff for fourth position
Final Round Notes
● Field average score: 71.17
● One eagle and 256 birdies posted in the Final Round
● 26 players broke par for the 54-hole championship
● Easiest Hole: #9, Par 5 (average 4.61)
● Hardest Hole: #10, Par 4 (average 4.33)
The winner of the Southern Junior Championship receives a silver medal; his name engraved on the Perry Adair Trophy; a Calamity Jane putter; exemption into the 2023 Southern Amateur Championship; exemption into all future Southern Junior Championships in which he is eligible to compete; Fully Exempt with AJGA for 12 months.
For more information about the 50th Southern Junior Championship, including hole-by-hole scoring, please visit
the Championship website
.
The 50th Southern Junior Championship is conducted by the Southern Golf Association.
About the Southern Golf Association (SGA)
The Southern Golf Association, founded in 1902, is one of the oldest golf organizations and serves member clubs over a 15-state area. Recognized by the United States Golf Association (USGA) and Regional Golf Associations as one of the leaders in the promotion of Amateur Golf, SGA championships are selected for inclusion as criteria for selecting players for USGA and State team competitions. Through the years, SGA Champions have been chosen to represent various state golf associations in selected team competitions, including the Walker Cup and World Amateur. The SGA is host to the Southern Junior Championship as well as the Southern Amateur Championship and hosts the international award, the "Amateur of the Month," to a deserving amateur golfer on a monthly basis.
For more information about the Southern Golf Association, visit www.southerngolf.org
Media Contact:
Savannah Snowden
Manager of Media, Marketing & Communications
Southern Golf Association
205-803-6524
/Blog/390970/Wyatt-Plattner-Crowned-Champion-of-the-50th-Southern-Junior-Championship